Scenario
We have a PLC, data logger, IP camera or other remote device with ethernet or serial ports that we want to be able to remotely access on demand in a secure manner.
In this example we will focus on accessing a PLC with an ethernet port, and we will use a standard dynamic private IP SIM (eg with an APN such as telstra.internet).
Solution
MTX-Router-Titan-II-S-4G AUS + Cervello Network Manager + OpenVPN GUI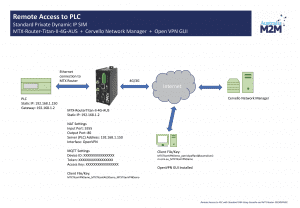 Cervello Network Manager will allow us to establish a VPN between a PC/server and the remote MTX Router using OpenVPN GUI.
For more information see the application note below.