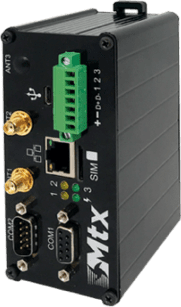 MTX 4G/3G Intelligent Industrial Routers
The MTX-Titan-II units, are new industrial M2M 4G/3G routers with Ethernet, RS232, RS485 and IO Connections.
The devices combine, easy to use routing functionality, with powerful gateway features, allowing easy integration with industrial devices using modbus, as well as to serial devices or sensors, and expansion modules such as GPS.
Aspects of Modbus functionality include:
Modbus RTU/TCP
Modbus to SNMP gateway
SMS to modbus gateway
MTX routers are distributed in Australia and New Zealand by Australis M2M Pty Ltd.